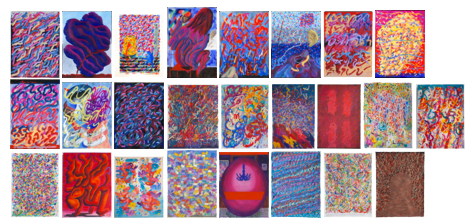 Hi, I'm Tom Bubul, welcome to my website. I'm an artist; I make paintings, write fiction and nonfiction, and sometimes make artist's books and zines, perform, make videos, or do music projects.
I also tweet, post irregularly on Instagram, and love email (see top of page). I have a million interests, and currently live in NYC.
This website will hopefully be "Under Construction" forever. :)
---
News
10/15: Updated my paintings website. I think I have a couple(?!) group shows coming up. And here's a gig flyer I recently "whipped up," cup by Shea'la:

8/17: Bunch of work in a new zine w/ Nina Hartmann & Chrissy Jones, "Sell This Book" released by MORE Records.
11/16: Moved into a new studio:

I made this wu-tang remix:

5/11/16: A few things = I'm posting to Instagram now, if you want to find me there. Updated the commissions page with some new stuff. I have some entries in "THE ENCYCLOPEDIA" vol. 1., a new encyclopedia being compiled by Bela Shayevich & Laura Perez-Harris. Best bet currently is... "NYC independent book store" or emailing me. I have two (2) available copies.
I'm working on a new drawing book, COUSYNTHS (COUSINS). Here's a sample:

3/1/16: Updated the portfolio.
1/22/16: I put a fiction up: "A lordosis"
1/20/16: Five pics up from the first round of commissions; general housekeeping. Happy new year ;)
11/24/15: You can now commission artwork for any budget.
11/3/15: I wrote some things about Cast Away (2000)
.