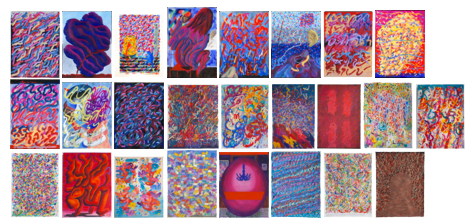 Hi, I'm Tom Bubul, welcome to my website.
I make paintings; here's my portfolio. I am currently doing a project wherein I will accept commissions for any budget.
I also write fiction and nonfiction, and sometimes I make artist's books and zines (through the years I've probably made about 50 or 60), or perform, make videos, or do music projects. I take the Nauman view that all individual component studio processes constitute a single, unified pursuit. I happen to be very focused on painting at this time. :)
I tweet and love email (see top of page). This website will hopefully be "Under Construction" forever.
Sign up for yearly-ish email updates:

---
News
3/1/16: Updated the portfolio.
1/22/16: I put a fiction up: "A lordosis"
1/20/16: Five pics up from the first round of commissions; general housekeeping. Happy new year ;)
11/24/15: My old company ran out of money and I was laid off. :) It's a great time of year to commission some artwork!
11/3/15: I wrote some things about Cast Away (2000)
.